The food of Jamaica includes a mixture of cooking techniques, flavors, and spices influenced by African, Amerindian, Irish, English, Portuguese, French, Spanish, Indian, Chinese, and Middle Eastern people who have inhabited the island. The flavors of this island reach around the globe, but there is nothing like the real thing. Jamaica knows how to season and knows how to throw a party.
Here are some must-try foods in Jamaica
Ackee and Saltfish- made from the local fruit ackee and dried and salted cod (saltfish). This is the national dish of Jamaica.
Jerk Chicken- jerk is a style of cooking native to Jamaica, in which meat is dry-rubbed or wet marinated with a hot spice mixture called Jamaican jerk spice.
Fried Breadfruit- a fruit local to the tropics. They taste of moderately ripe breadfruit is described as potato-like, or similar to freshly baked bread.
Jamaican Red Peas Soup-an aromatic and hearty soup featuring kidney beans and Stew beef. Recipes on the "extras" for flavor vary.
Goat curry-similar to the Indian version with a bit more Jamaican oomph.
Jamaican Beef Patty- a savory and spicy pastry filled with meats (beef, curried chicken, shrimp, lobster, etc).
Manish Water-this is a dish for the more daring. It is goat soup made with goat parts and said to be an aphrodisiac. Let's just leave it there.
Callaloo- is a popular dish of indigenous green leafy vegetables. Reminiscent of southern collards and greens.
Festival Bread- very similar to hushpuppies.
Here are some must-try drinks in Jamaica
Jamaican Sorrel Drinks
Rum Punch
Jamaican Blue Mountain Coffee
Red Stripe Beer
Dirty Banana
Jamaican Rum Creme
Bag Juice
Ting Grapefruit Soda
Here are some great places to eat.
Rick's Cafe – Rick's Cafe in Negril, Jamaica, sits atop beautiful 35-foot tall cliffs overlooking the ocean. Aside from the great food and drinks, visitors can go to cliff jump off these cliffs. Some daredevils even jump from the trees and other buildings that line these cliffs. Then some want to enjoy the Jamaican sunset from these cliffs.
Floyd's Pelican Bar- This bar and restaurant is built from driftwood and sits atop stilts on a sandbar that is about a quarter of a mile out to sea. It is just a 20-minute boat ride from the coast of Negril. It is the perfect place to spend an evening swimming, sunbathing, and enjoying some great food and a cold Red Stripe.
Most think of the beaches when they are looking for things to do, but take the time to look into what is around, and you may find some memorable experiences. The country has a beautiful culture and a landscape that is just as diverse as anywhere else. There are great people, tropical wildlife, and things to do inland and on the coast. Just expand your horizons and see all the things that Jamaica has to offer.
How To Make a Dirty Banana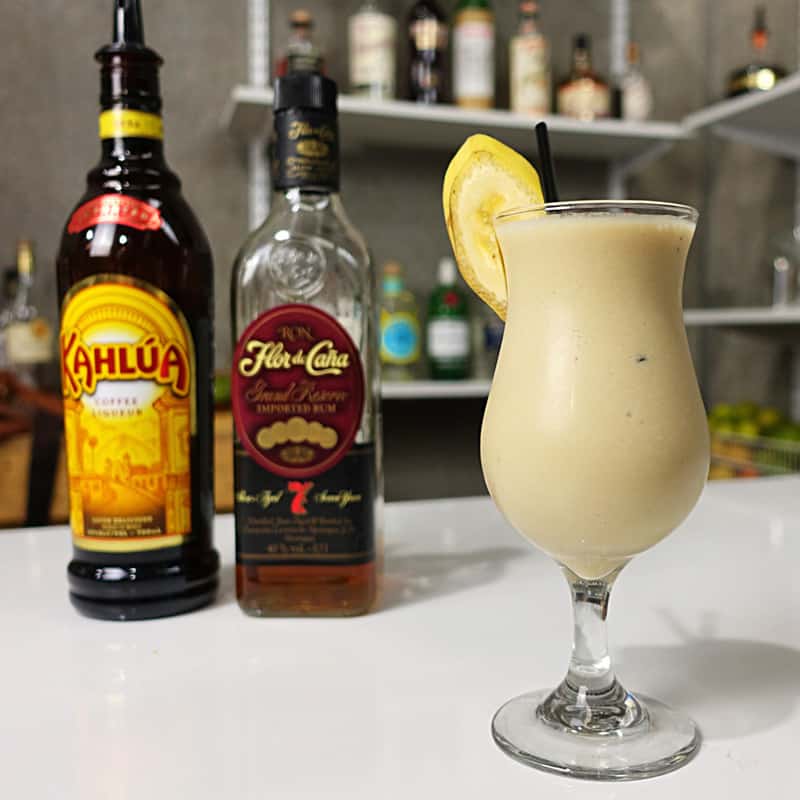 Start by adding ice to the blender. Then add a splash of rum, kahlua, and coffee liqueur, 1/2 a banana, heavy cream, and chocolate syrup. Hit blend and pour it into a glass. Top with whipped cream and sip happily.
The ingredient list might sound long, but you're only adding a small splash of each liquor and the flavor that is delivered when they're combined is fantastic.
You can make a Not-So-Dirty Banana drink for the non-drinkers and the kids. Just skip the alcohol and add either 1/4 cup of milk or 1/4 cup of cold coffee. (I like both versions!)
We hope you enjoyed this foodie's trip to Jamaica

There are many gorgeous resorts on the island that we can direct you to. You want to find the ones with the most restaurants. That is why we love Sandals and Beaches. You can try just about everything on this list and have as much as you want, as many times as you want!
Follow Our Blog
By clicking subscribe, you agree to share your email address with the site owner and Mailchimp to receive marketing, updates, and other emails from the site owner. Use the unsubscribe link in those emails to opt-out at any time.