Sandals and Beaches Resorts in Jamaica
Good day everyone! My wife and I are freshly back from a trip to experience the Sandals and Beaches Resorts in Jamaica. While we were in paradise, we were able to visit 6 resorts over a 6 day period. With that said, I will add that I did not know what to expect out of the trip. I was pleasantly surprised to find out that there is an expansive variety in the accommodations and the atmospheres at the resorts, greater than what I thought I would see. I think I expected to see a more cookie cutter experience and have the same old, same old at each of the locations. Boy, I could not have been more wrong!
Where we stayed at Sandals and Beaches
I will start by explaining the accommodations that we had while we were there. Beaches Negril is where we spent the first three days. Beaches is the family friendly arm of Sandals where children and adults alike can relax and enjoy. We had 2 separate room classes while we stayed at this resort, but both were very spacious and luxurious. The last half of our trip, we stayed at Sandals Montego Bay. The room there was also very large and even had a balcony with a Tranquility tub on it. It overlooked the ocean and we had suites below us that had swim outs into a pool.
Service at the Resorts in Jamaica
The thing that impressed me most, was the level of attentiveness that the staff had toward everyone and everything. Service was out of this world! The resorts are 5 star, all inclusive and award winning and just observing how the employees approached their jobs and how happy they seemed to be may explain why.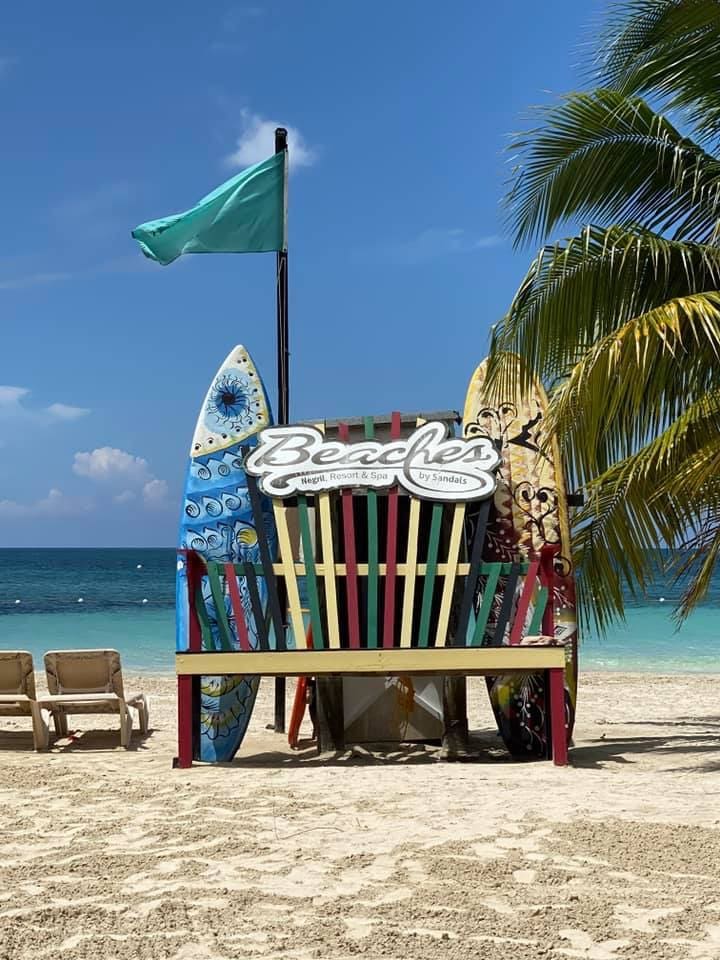 The Sandals and Beaches Resorts
We stayed at 2 of the Sandals and Beaches resorts while were there, but we were able to "site inspect" 6 of the resorts out of the 9 that are in Jamaica. During our stay we saw Beaches Negril, Sandals Negril, The Grand Pineapple in Negril, Sandals South Coast, Sandals Montego Bay and Sandals Royal Caribbean. The resorts are as different as their names and each will appeal to a different traveler. The vibes at each of the resorts were noticeably different and a separate experience could be had from each. The layout of the resorts are so that there were differences in the vibe from one end of the resort to the other at the larger resorts.
The Dining
I have not even mentioned the dining that we experienced while we were there. We did not eat the same thing twice (other than frozen yogurt!). The restaurant choices were numerous and even though we could not get into a few of them because there were no open reservations, we still had a fabulous dining experience. I cannot say enough about the quality of the food and the variety.
There is so much more that I could say about the trip, but I think I will need to split it across a few posts. This is a generalized account of the week and I have not touched on many specifics. If you would like to experience luxurious relaxation and plenty of variety without ever leaving a resort or taking out your wallet while you are on resort, contact us for more information and to talk about how we can plan your trip to paradise!
P.S. I did not carry my wallet the entire time I was in Jamaica
#jamaica #jamaicalife #sandalsresorts #beachesresorts
Follow Our Blog
By clicking subscribe, you agree to share your email address with the site owner and Mailchimp to receive marketing, updates, and other emails from the site owner. Use the unsubscribe link in those emails to opt-out at any time.