Delicious Fish & Chips in England!
Trust us, fish & chips tastes better across the pond! You can find this traditional English dish in nearly every pub across England. Usually served with a side of smashed peas, it goes great with a local English ale.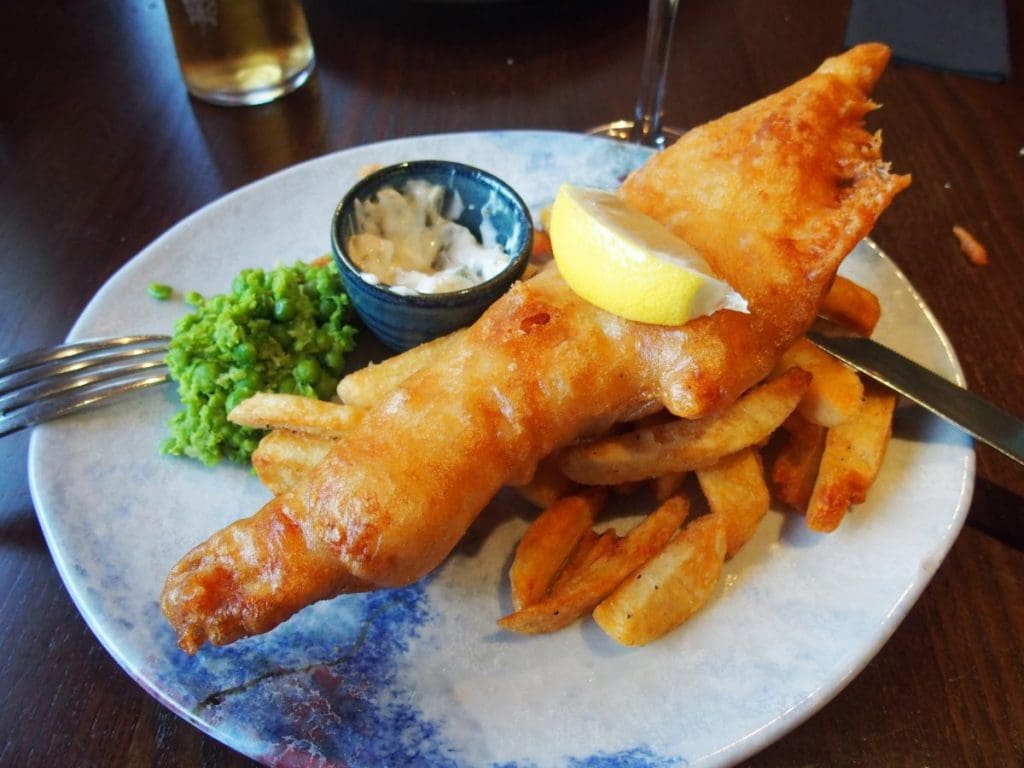 A few years back, 2017 to be exact, we took a trip to the UK and we did a whirlwind tour of the countryside and London. The UK is on our bucket list to revisit, especially Scotland. While we were there, we had the opportunity to experience the cuisine and while we were in Wales touring a few of the castles, we stopped to have lunch in Conwy. We ate at a restaurant called the Fishermans Chip Shop and of course, I had the fish & chips with mushy peas.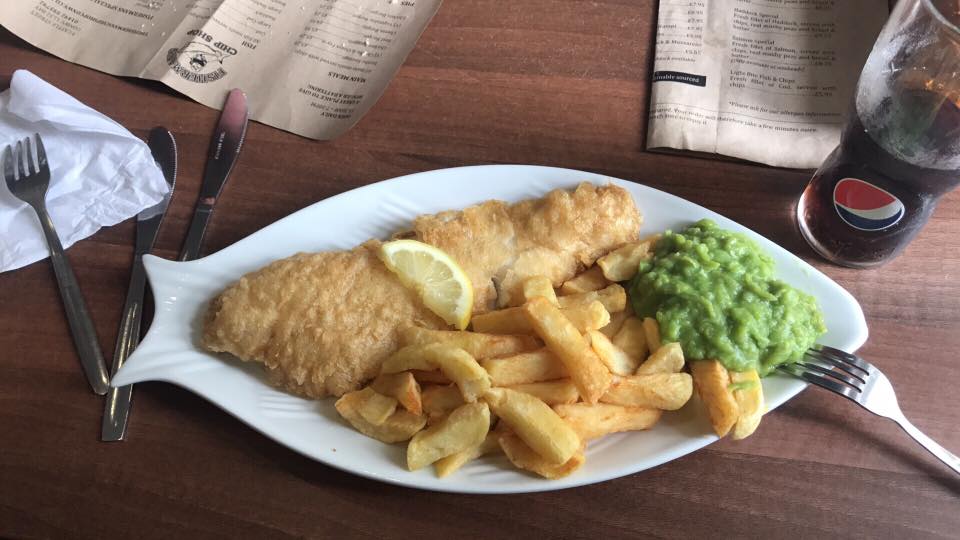 Currently living in the South, I miss the Friday night fish fries of home (Western New York). So, every opportunity that I get to order Fish & Chips at a restaurant I do! One restaurant here in Cartersville is Maine Street Coastal Cuisine and they have fish & chips that will rival those in the UK.
For those of you that have the ambition, here is a recipe that you can follow to make English style fish & chips for yourself.
READY IN: 1hr SERVES: 4 UNITS: US
INGREDIENTS
4 cod fish fillets or 4 haddock fillets
6 ounces plain flour
1 teaspoon bicarbonate of soda
1 (8 fluid ounce) bottle British beer, Small
1/2 lemon, juice of
salt & pepper
extra flour
3 lbs potatoes, peeled & chipped
good quality cooking fat or oil
DIRECTIONS
Heat fat up in a chip pan or automatic deep fat fryer – mine has a chip setting which is 190°C.
Peel the potatoes and cut into chunky sized chips. Rinse and dry thoroughly.
Fry chips for about 3 minutes until soft but NOT colored. Drain and shake well and set to one side.
Put some flour onto a plate. Dredge the fish fillets in the flour thoroughly – this is VERY important; it stops the batter sliding off when fried! Leave the fish fillets in the flour whilst you make the batter.
Some people say you should make the batter at least one hour before – I have found little difference – so make it before if it is convenient or now!
Put flour, bicarbonate of soda, salt, and pepper into a large roomy bowl. Add the beer gradually, stop when you have a thick coating type of batter. Drink any beer that is left! Whisk thoroughly until it is smooth and there are no lumps. Add the lemon juice OR a splash of malt vinegar if desired. Mix thoroughly again.
Have your plates, newspaper or whatever ready for eating!
Adjust deep fat fryer to fish frying temperature of 160°C.
Take one fillet of fish at a time and holding it by the tail or thin end (!) swirl it around the batter until well coated – plunge into hot fat immediately. As soon as it has crisped up and set, add your other fillets one at a time, taking out the first ones as they cook – about 6 to 10 minutes depending on the thickness. Place onto a tray and keep warm in the oven.
Turn up the heat setting to 190°C again and cook your chips until golden and crisp.
Serve on plates or newspaper with salt & vinegar!
All you need now is a pint of warm beer and Coronation Street on the TV to set the scene!
This batter is great for small fish goujons, chicken goujons and tempura vegetables too.
Are you ready to go to the UK once we are able? Call today to plan your trip to London or the English countryside.
#fishandchips #pubgrub #traveleats
Follow Our Blog
By clicking subscribe, you agree to share your email address with the site owner and Mailchimp to receive marketing, updates, and other emails from the site owner. Use the unsubscribe link in those emails to opt-out at any time.