The Caucasus Mountains are at the intersection of Europe and Asia. They stretch from the Black Sea and the Caspian Sea, which is referred to as the Caucasus region. In the center of this is the country of Georgia and today we are going to introduce you to its capital Tbilisi (pronounced-Tilleesee).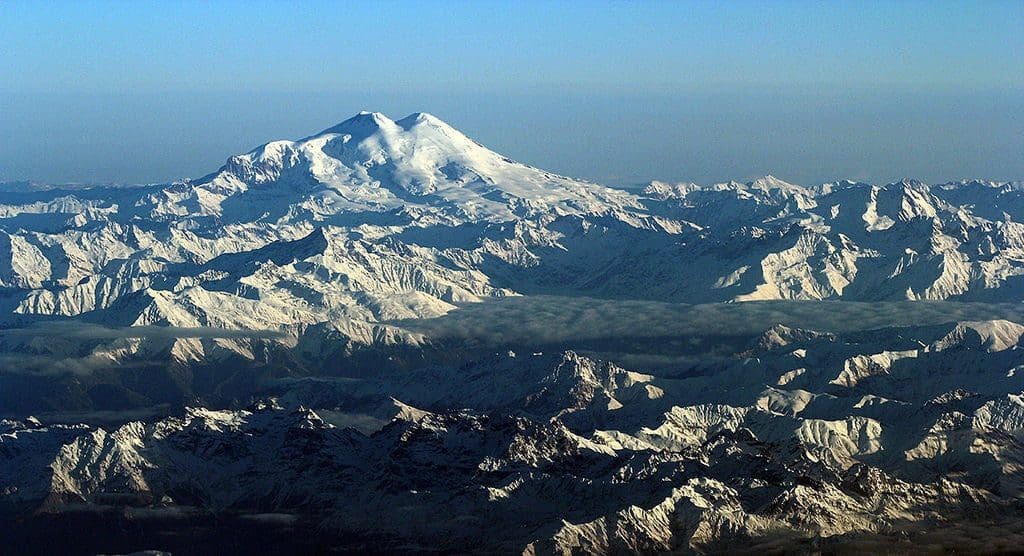 Tbilisi is a city of contrasts, where east meets west and you see signs of war, soviet oppression amongst gorgeous cathedrals, bohemian art, hidden cafes, and luxury boutiques.
Your first day should start with a high in the sky perspective by taking a modern rail car to the fourth century Narikala Fortress that sits on the side of a mountain overlooking the city. You cannot miss Kartlis, or Mother Georgia, a 66-foot-tall aluminum woman with a cup of wine for friends in one hand and a sword for her enemies in the other. From the fortress, you can gaze down upon the 19th-century Old Town, the much more ancient river walls of the Mtkvari River and Rike Park.
Tbilisi Pictures
As you descend from this fourth-century fortress you should head over to the 21st century at Rike Park. Modern urban planning has created this public area that is shaped like the map of Georgia. It not only has picnic areas, a climbing maze, a giant grand piano, and a choreographed musical fountain, but the park's most recognizable feature is also the twin metal exhibition halls. The Italian architect Massimiliano Fuksas designed these, two glass and steel tubes, conjoined at the back, and serve as an exhibition space and a concert hall.
When you have taken in this beautiful creative use of public space, head over to the bow-shaped Bridge of Peace, another Italian-designed marvel. Made with curved steel, a glass canopy top, and, at night, a light show of 1,000 twinkling LEDs. Remember how to get here, because you will want to return in the evening.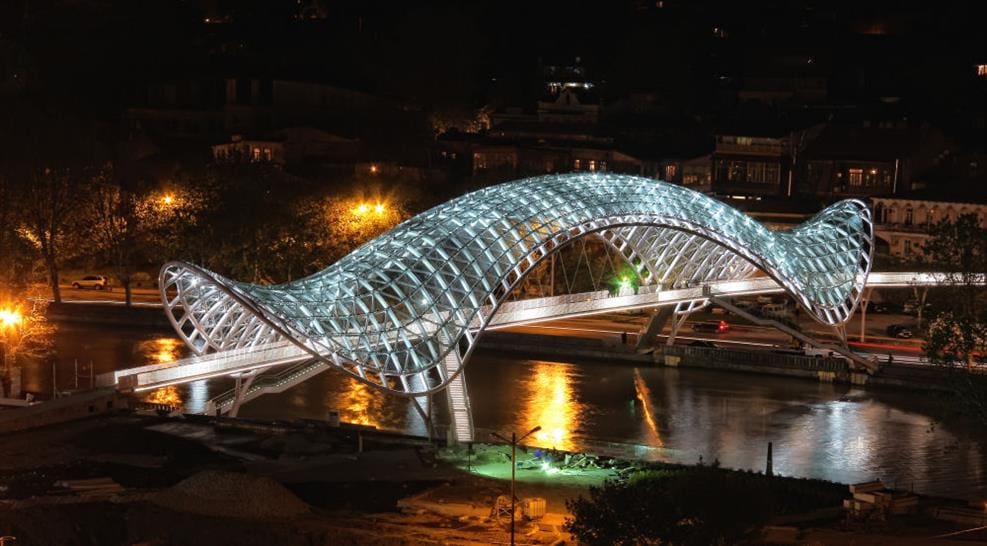 Old Tbilisi sits on the other end of this bridge and is a jumble of narrow winding streets, crooked churches, and tilting pastel villas with intricately latticed balconies. Head over to the Rezo Gabriadze Puppet Theater by noon; at the stroke of twelve, the windows of the theater's clock tower burst open and offer the crowds below a charming mini-marionette show.
Check Tbilisi TV Tower. They took a soviet-era eyesore and created an amusement park and urban playground that is accessible by a funicular that goes straight up the mountain. Restaurants, carnival rides, and fantastic views await.
Georgia is one of the oldest viticultural regions on earth, and Tbilisi is littered with cavernous tasting rooms. On top of this, you might want an introduction to chacha, the local moonshine. The food scene is pretty big here and can be a bit overwhelming when there is so much to offer. Great tours are available that will satisfy your thirst and appetite.
Georgian's know how to have a good time and the slow start to the day with empty breakfast tables will have you eating by yourself if you did not join them the evening before. You may see a handful of drunken post-rave partyers slurping khashi – Georgia's tripe-and-garlic soup that serves as a hangover remedy and is recommended for may ailments. Served with it are khinkali, a dumpling stuffed with a variety of fillings. Set your reservations about this dish aside and do leave Tbilisi without tasting.
There seems to be a vibe that comes from this Tbilisi, Georgia. It has endured its fair share of wars and strife and yet it has become a model for rebirth and embracing its past and its future.
Do you think Tbilisi, Georgia is worth the visit? We think we just added another country to our bucket list.
Follow Our Blog
By clicking subscribe, you agree to share your email address with the site owner and Mailchimp to receive marketing, updates, and other emails from the site owner. Use the unsubscribe link in those emails to opt-out at any time.