Let's talk about potato pancakes! We grew up in partly polish families, and potato pancakes were a real treat. Served for breakfast or dinner, applesauce or sour cream, it is comfort food in its own class. Pancakes and Latkes are used sometimes interchangeably. But there is a difference. Potato pancakes are more rounded than potato latkes and you can make them uniform more easily. On the other hand, potato latkes are also rounded, but you will notice shredded pieces of potato sticking out here and there. Finally, potato pancakes are thinner, while potato latkes are thicker.
First, let's talk about the one near and dear to our daughter's hearts.
The Polish Potato pancake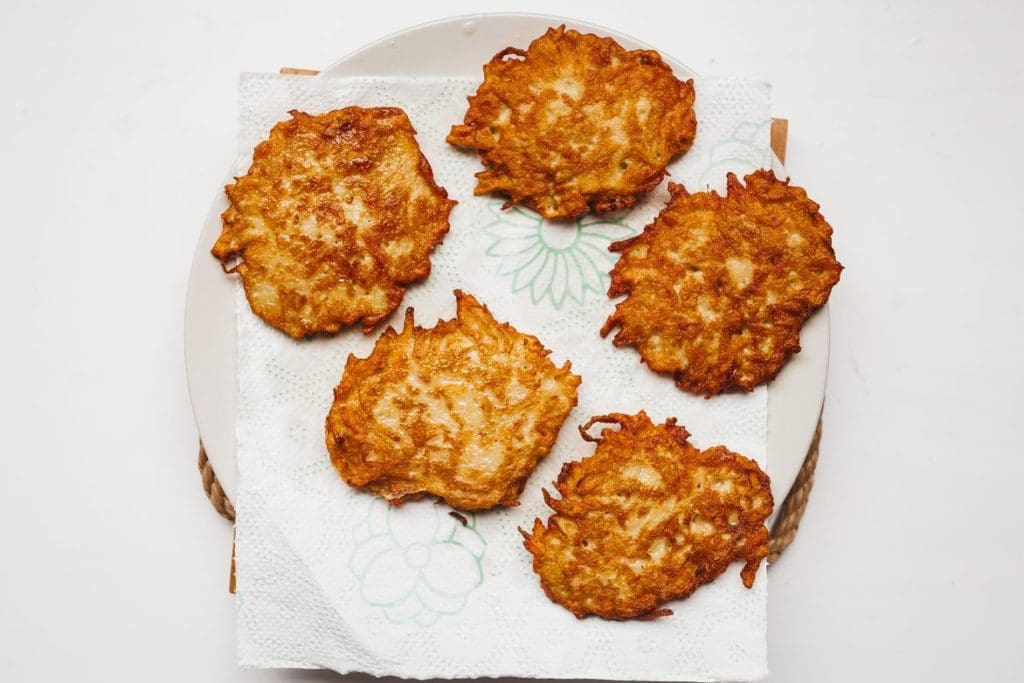 3 potatoes (1.5 pounds)
1 small onion
1 small egg
2 tablespoons flour
1 teaspoon salt
1/4 teaspoon pepper
canola oil for frying
Peel potatoes and grate on the fine side of the grater. Grate onion. Drain potatoes and onion.
In a bowl, beat egg, stir in flour, salt, and pepper until smooth. Add drained potatoes and onion, stirring until well combined.
Heat 1/4 inch oil in frying pan over medium-high heat. Add potato batter, 1/4 cup at a time. Using the back of a spoon, spread the batter until the pancake is about 1/2 inch thick.
Cook 2 to 3 minutes on each side, rotated them halfway through each side to keep the middle from cooking and the outside edge from not getting dark enough.
Drain on paper towels.
Here is a link to another recipe
Lambda, the Georgian Potato Pancake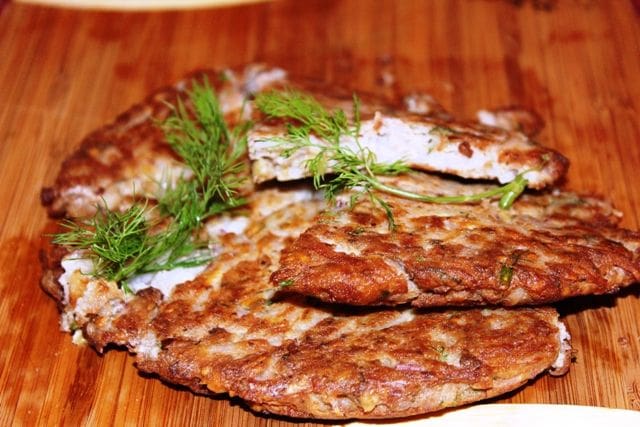 Georgia has its own spin on these savory gems. The trick is to use Khmeli Suneli seasoning. You probably will not find this at Kroger, so I am including the recipe at the bottom of this article.
1 pound Yukon gold potatoes
2 cups sliced leek
1 egg, slightly beaten
1 tablespoon + 1 teaspoon Khmeli Suneli
1 teaspoon kosher salt
1/4 cup flour
2 tablespoons oil, for frying
1 cup sour cream
Peel the potatoes and shred them. Place the shredded potatoes in a large bowl and rinse under cool running water to remove excess starch until the water runs clear, then drain and squeeze out the excess moisture. In a large bowl, combine the potatoes, leeks, and egg. Then sprinkle on the flour, 1 tablespoon Khmeli Sunel and salt and stir to combine.
Preheat a large, non-stick saute pan over medium heat. Add 1 cup of the potato mixture to the pan and flatten into a pancake, approximately 1/2″ thick. Cook 3-4 minutes until the pancake begins to solidify and turn golden. Carefully flip and allow the second side to firm up as well, cooking 3-4 minutes more.
Carefully slide the pancake onto a board and allow to cool slightly. Cut into wedges and keep warm until the remaining pancakes are cooked.
Stir the remaining 1 teaspoon Khmeli Suneli into the sour cream and serve alongside warm pancakes.
Bramboracky, the Potato Pancake of the Czech Republic
Lastly, we could not have an article about Potato Pancakes without a nod to one of our favorite countries, the Czech republic. We had these yummy treats while on our Christmas river cruise.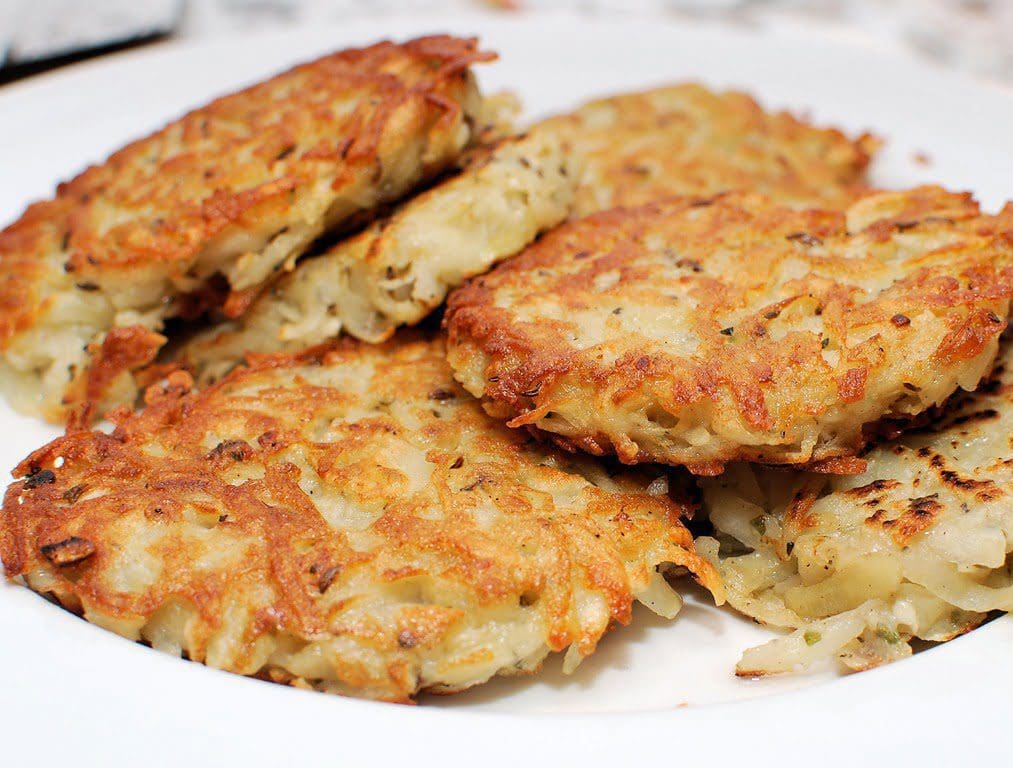 4 large potatoes
3 cloves garlic Crushed
Salt and pepper to taste
Pinch dried marjoram
2 tsp caraway seed
2 eggs
1 Tbsp milk
3 Tbsp Flour
Oil for frying
Peel and coarsely grate the potatoes, squeezing out as much liquid as you can. Transfer the shredded potatoes to a mixing bowl. Stir in the crushed garlic, salt, pepper, marjoram, and caraway seeds.
Beat the eggs with the milk. Add the egg mixture to the potatoes and stir well to combine. Gradually mix in the flour to form a thick but still pourable batter. Heat the oil in a skillet over medium-high heat; the oil should be about 1/4-inch deep. Spoon about 1/4 cup of batter into the hot oil, flattening it slightly. Fry the pancake until golden brown, about 3 minutes on each side. Drain on paper towels. Taste the first pancake and adjust the seasoning if necessary; repeat with remaining batter.
Hint: if you want them crispy, after shredding your potatoes, immerse them in cold water to keep them from discoloring. If you're using a hand grater, you can shred them directly into the bowl of water. Soaking the shreds helps to keep them from turning brown; it also has the added benefit of making crispier.
Khmeli-Suneli seasoning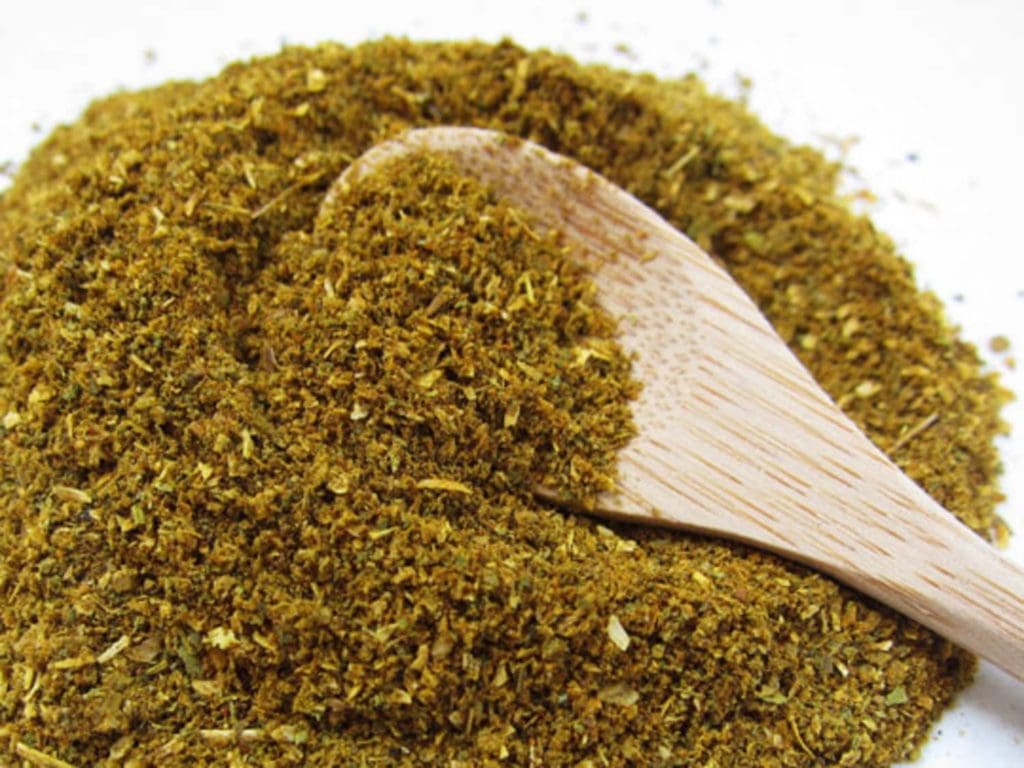 2 tablespoons dried marjoram
2 tablespoons dried dill
2 tablespoons dried summer savory
2 tablespoons dried mint
2 tablespoons dried parsley
2 tablespoons ground coriander
1 tablespoons dried fenugreek leaves
2 teaspoons dried ground marigold petals
1 teaspoon ground black pepper
1 teaspoon ground fenugreek seeds
2 crushed bay leaves
You can add it to soups and stews or use it as a dry rub for barbecue. It is particularly tasty on fish, chicken, and lamb.
If we have made your mouth water, we have done part of our job! Schedule your free consultation and we can send you to all of these destinations in order to try these delicious potato pancakes in person.
Follow Our Blog
By clicking subscribe, you agree to share your email address with the site owner and Mailchimp to receive marketing, updates, and other emails from the site owner. Use the unsubscribe link in those emails to opt-out at any time.