If you're already a lover of duck dishes, it won't take much convincing for you to try this when traveling in its native homeland, China. Peking Duck has been served since the imperial era and hails from the original capital, Peking (now Beijing). Known for its crispy skin and tender meat, the dish is usually carved and plated hot in front of diners.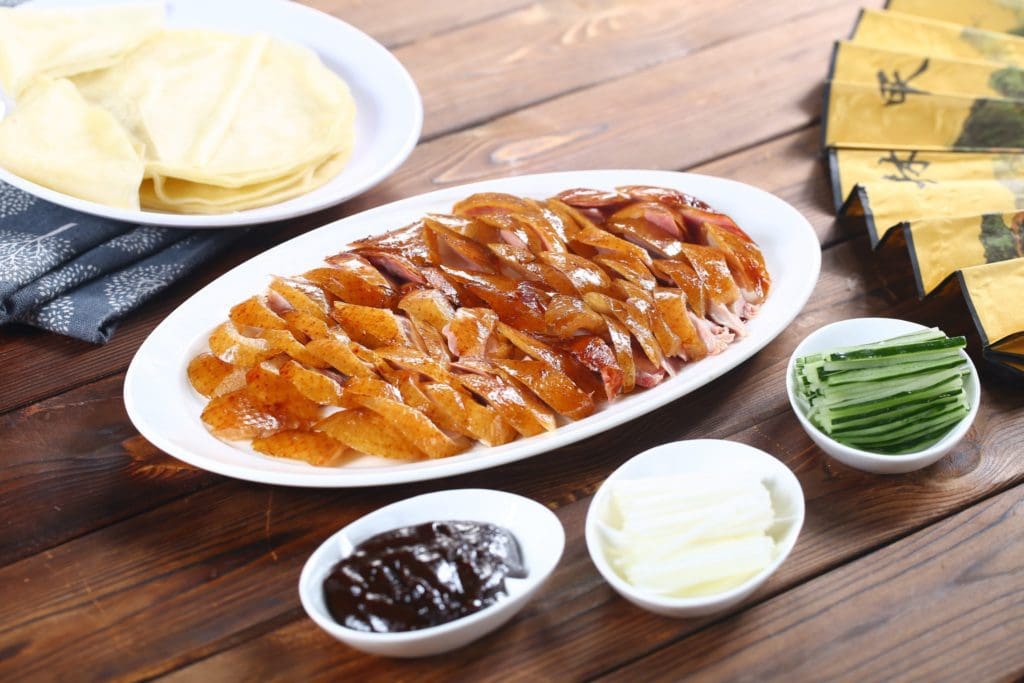 Peking Duck Recipe
1 (4 pound) whole duck, dressed
½ teaspoon ground cinnamon
½ teaspoon ground ginger
¼ teaspoon ground nutmeg
¼ teaspoon ground white pepper
1/8 teaspoon ground cloves
3 tablespoons soy sauce
1 tablespoon honey
1 orange, sliced in rounds
1 tablespoon chopped fresh parsley, for garnish
5 green onions
½ cup plum jam
1½ teaspoons sugar
1½ teaspoons distilled white vinegar
¼ cup finely chopped chutney
Prep Time: 15 mins Cook Time: 1 hr 35 mins Additional: 2 hrs Total: 3 hrs 50 mins Servings: 4 Yield: 4 servings
Directions
Step 1
Rinse the duck inside and out, and pat dry. Cut off tail and discard. In a small bowl, mix the cinnamon, ginger, nutmeg, white pepper, and cloves. Sprinkle one teaspoon of the mixture into the cavity of the duck. Stir one tablespoon of the soy sauce into the remaining spice mixture and rub evenly over the entire outside of the bird. Cut one of the green onions in half and tuck inside the cavity. Cover and refrigerate the bird for at least 2 hours, or overnight.
Step 2
Place duck breast side up on a rack in a big enough wok or pot and steam for an hour adding a little more water, if necessary, as it evaporates. Lift duck with two large spoons and drain juices and green onion.
Step 3
Preheat the oven to 375 degrees F (190 degrees C). Place duck breast side up in a roasting pan and prick skin all overusing a fork.
Step 4
Roast for 30 minutes in the preheated oven. While the duck is roasting, mix the remaining two tablespoons of soy sauce and honey. After 30 minutes, brush the honey mixture onto the duck and return it to the oven. Turn the heat up to 500 degrees F (260 degrees C). Roast for 5 minutes, or until the skin is richly browned. Do not allow the skin to char.
Step 5
Prepare the duck sauce by mixing the plum jam with the sugar, vinegar and chutney in a small serving bowl. Chop remaining green onions and place them into a separate bowl. Place whole duck onto a serving platter and garnish with orange slices and fresh parsley. Use plum sauce and onions for dipping.
If you love Chinese food, let's get you to China – where you'll find the best of the best and at a fraction of the price. Reach out today to chat about all that China has to offer. At this time we do not promote traveling to China. That may change in the future as we put together a trip to Thailand. The countries in the area that we would love to visit are Thailand, Cambodia and Vietnam. AmaWaterways has sailings available that will let you experience Cambodia and Vietnam up close and personal.
#pekingduck #chinesefood
Do you have any questions? Send us an email through our webpage if you need answers or would like more information.
Follow Our Blog
By clicking subscribe, you agree to share your email address with the site owner and Mailchimp to receive marketing, updates, and other emails from the site owner. Use the unsubscribe link in those emails to opt-out at any time.