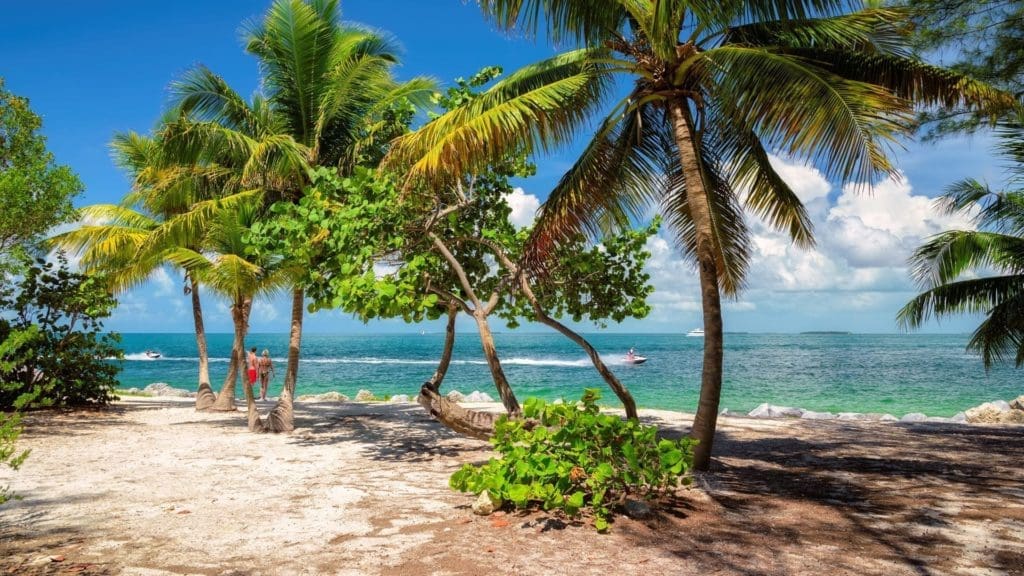 We are going to explore a city in Florida that does not get nearly the love it deserves. Key West, Florida is quite surprisingly a hidden gem. There are two types of people, those that have been and love it and those that have not and do not show a big interest. The only explanation is that they do not know what they are missing!
Key West, Florida is the furthest island in the Florida Keys. It lies about 164 miles from Miami and takes about 3 hours to drive US 1. The route is slow but extremely beautiful. On one side is the dark waters of the Atlantic and the other is the lighter waters of the Gulf of Mexico. Key West should be the destination but there are many great places to stop along the way and could take the better part of the day exploring and making a list of places to re-visit. Each Key is a different place.
Time to Relax in Key West
Once you arrive in Key West you will feel the hustle-bustle combined with a laid back vibe that is hard to explain. All the homes are painted in pastel colors and you need to watch out for chickens in the road and sidewalks. The historic area is very walkable but many people opt to rent a golf cart while they are there to get around.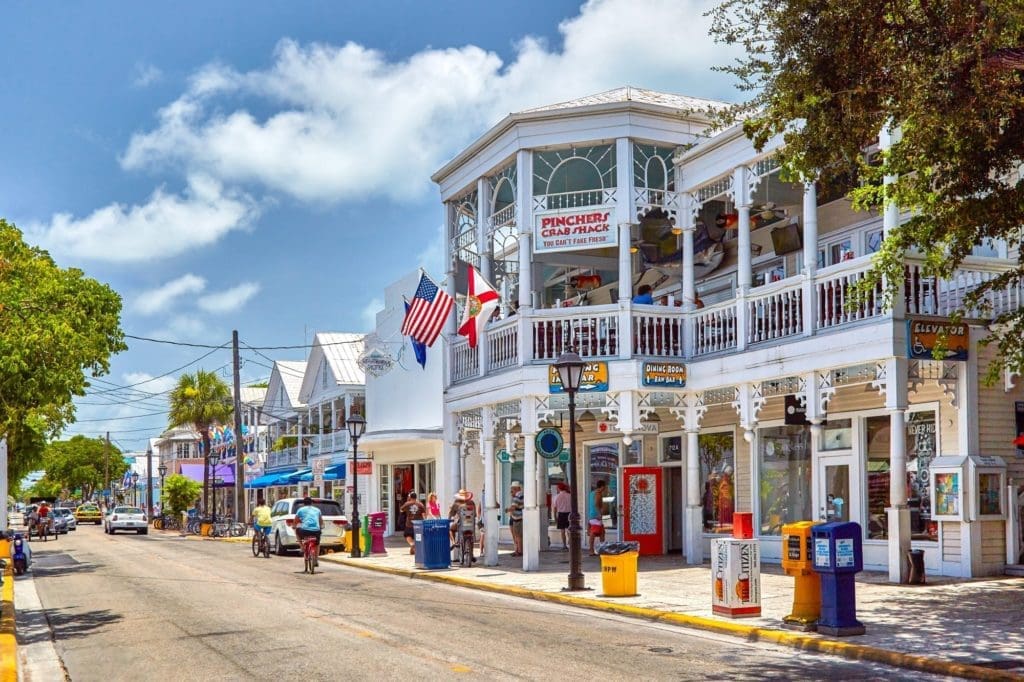 The main attractions: Duval Sreet, Mallory Square, Southernmost Point, and the many museums.
On Duval, you literally shop till you drop. Loads of one of a kind galleries, shops, and Boutiques line the 1.25-mile stretch. Here is where all the famous restaurants and bars are like Sloppy Joes, Hard Rock Cafe (Jimmy Buffet pops in occasionally), Captain Tony's Saloon, and Cowboy Bill's Honky Tonk Saloon to name a few.
Duval Street also hosts the Key West Food & Wine Festival and is the center of the action for the Conch Republic Independence Festival when the Florida Keys celebrate their self-proclaimed independence with a weeklong festival that includes food, music, and fun activities.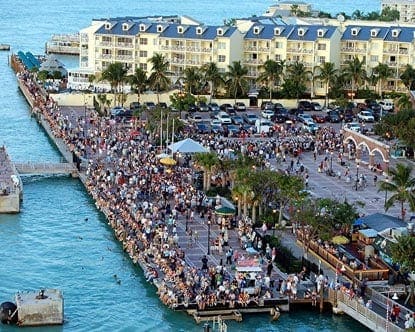 Mallory Square Is the hub of social and commercial life in Key West. It is here that you will see street performers, waterside restaurants, shops, theater, and the most magnificent sunsets! Every evening is a sunset celebration that starts 2 hours before the sun goes down. "See you at Sunset" is often heard and for good reason. Mallory square is where everyone congregates to witness what iconic figures like Mark Twain, Earnest Hemmingway, and Tennessee Williams witnessed and wrote about.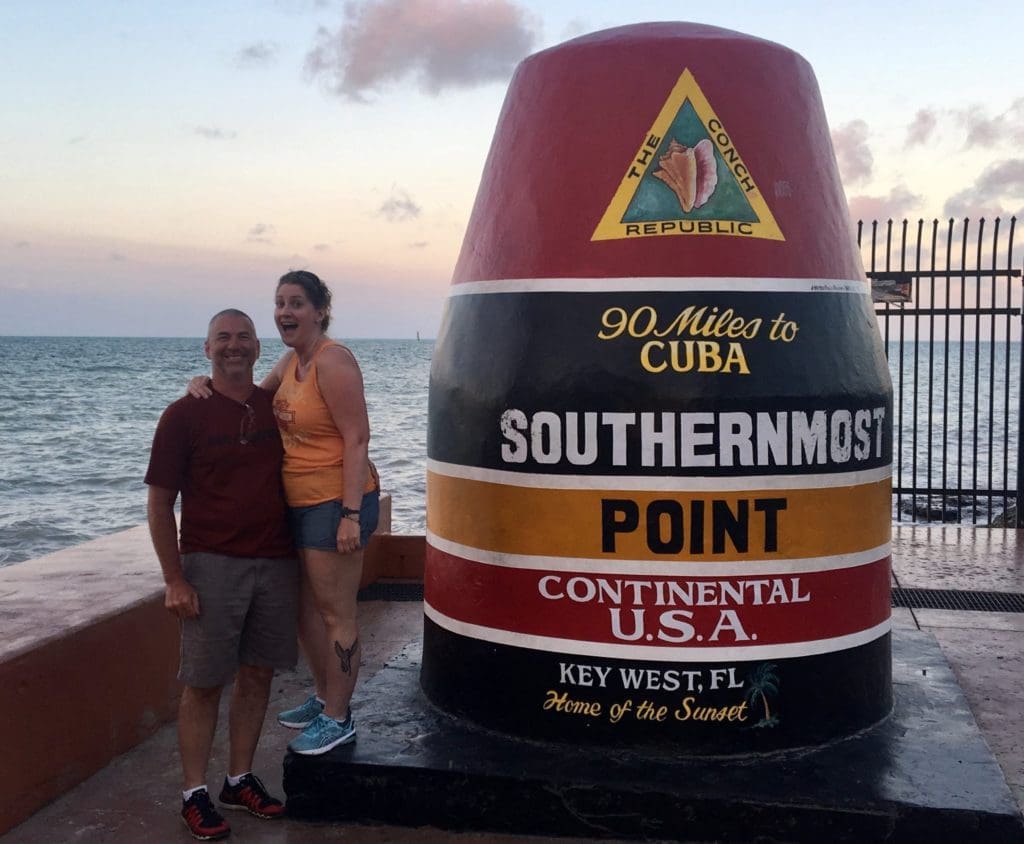 Southernmost Point is the most photographed spot in Florida. People come from all over to have their pictures taken with the Giant Buoy, and it can get quite crowded. We recommend getting there as the sun is coming up. The lighting is perfect and there are no crowds. Head back to La Grignote for a spectacular french breakfast treat and a great cup of coffee. We loved this place so much, we ate there three times in 4 days! Way too many items to try and the owners are fantastic! Mention Travel by Jon & Jo'El, and they may remember us.
Things to Do
Hotels are numerous but should be chosen carefully if you want to be near the action. The Duval Loop bus is a free bus that travels in a giant square. It takes visitors all over the historic district. Being near a stop is key to having total accessibility to the many attractions. It runs every 20 to 30 minutes 8 am – 10 pm.
Another must is the Conch train that's been entertaining visitors to the Island City of Key West, Florida since 1958. The Conch Tour Train is one of the most popular Key West attractions and for a good reason! Purchase a ticket for a 2nd consecutive day for only $10. You will see sights like the Harry Truman Little White House and Ernest Hemmingway's home and museum. The Key West Lighthouse, Southernmost Point, Sails to Rails Museum as well as get the detailed history of the island.
A Ghost and Graveyard tour is fun and takes you back to all the swashbuckling shenanigans that made this area a pirate haven. There is a trolly tour also that is better for those that have mobility concerns.
Enjoying – The Life
There are plenty of opportunities for water sports, diving, snorkeling, water skiing, parasailing, water trampolines, rock climbing, and private charters. Our favorite is the Sunset Cruise. Set sail on a spacious 45ft power catamaran for Commotion on the Ocean. Listen to a local musical group play sounds of the islands as you dine on appetizers and enjoy beer, wine, and pitchers of margaritas. As the sun sets, the attention is on the sun meeting the waters' edge. Enjoy this awe-inspiring few moments as your ship heads back to shore. Your evening does not need to end, as the rhythms from one of the many bars will pull you to a sidewalk table and keep you entertained.
Visiting Key West, you do not feel like you are in the States. This is a perfect getaway if you want tropical, fun, and no passports. A great girls getaway, honeymoon, bachelor party, romantic weekend. Key West fits it all.
Let's start planning your perfect Key West Trip.
Follow Our Blog
By clicking subscribe, you agree to share your email address with the site owner and Mailchimp to receive marketing, updates, and other emails from the site owner. Use the unsubscribe link in those emails to opt-out at any time.