How to NOT look like an American in Europe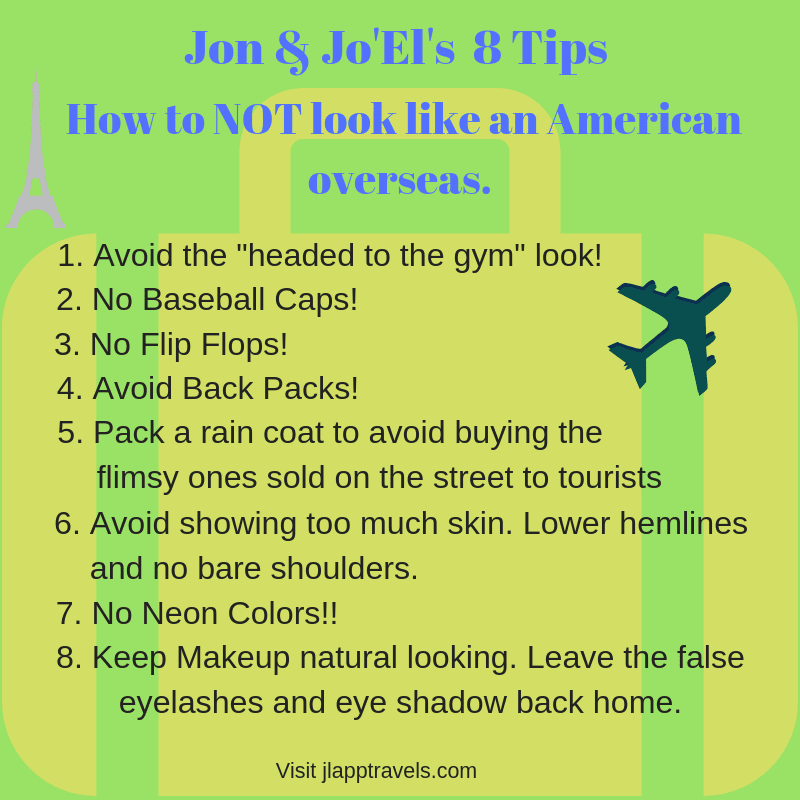 The last thing any traveler needs is to be a target for pickpockets or locals who have had it with stereotypical tourists. This list is by no means inclusive. These are just some of the things, we know, that set us apart as Americans. That whole "when in Rome" saying holds true in travel. If you want to experience travel like a local, these tips will help. If you want to broadcast "look at me, I'm American", I'm sure the gypsies will love you for it.
How to NOT look like an American
Avoid the "headed to the gym" look.  Americans are known for wearing sweats and gym shoes that are bulky with Nike or other symbols. Try and pick a comfortable shoe or walking shoe like a Merrell. Many of these have great support and have weather resistant materials.
No baseball caps! Baseball caps are truly American. If you insist on headgear, think of something your grandmother or grandfather would have worn. On our last trip to Wales, while walking around medieval castles with our British friend, we made a game of picking out the Americans by their head wear. Don't be one of those!
No flip-flops! Flip-flops in many countries are considered house shoes, or strictly beach shoes. You may be denied entry to a restaurant because of them. Pack a nice comfortable traditional looking sandal. These can be dressed up for the evening and be casual enough for sightseeing during the day.
Raincoats. It rains. You will more than likely encounter rain as you travel. Pack a sensible raincoat so that you are not forced to buy one of the garbage bag looking ones that the tourist peddlers sell. You will stand out wearing one of those!
Avoid backpacks. Backpacks are a target for gypsies and pick pockets. You will not know that you have been robbed until you reach for your wallet, and it is no longer there. The best option is a cross body bag where your hand is close to the opening.
Too much skin. This applies to ladies and gentlemen. Avoid showing too much skin. Ladies, if you are going to wear a skirt make sure it is closer to the knee. You can expose your shoulders, but you may be denied entry into a religious site based on your bare shoulders. Pack a light shawl, which would be easy to pack in a purse or around your waist. You would hate to stand in line for three hours at the Vatican and then be denied entry because too much skin was showing.
No neon colors! Americans LOVE neon colors and bold prints. The rest of the world does not. Enough said.
Natural make up. American women love their makeup. In many countries too much make-up is considered tacky, and you will be noticed. Travel with light make-up if you need it. It is easier to travel without having to put your face on every day.