Guadaloupe is the last island for now. A beautiful butterfly-shaped island that is a colony of France in the French West Indies. The country receives considerable notice from the foodie world for its unique mix of Creole delicacies, Caribbean staples, and French classics.
Bokit – inspired by a johnny-cake was created after slavery was abolished and low-wage workers needed an alternative to sandwich bread in Guadaloupe. Today it is deep-fried, stuffed with meats, cheeses, and drizzled with a vinegar-based sauce. (low price but expect large portions.)
Accras – A Caribbean classic, a fried fritter sold as a snack at daily markets and as a starter at restaurants. Typically filled with cod, lobster, or shrimp, flavorful accras have a strong African influence.
Curry – known as Colombo in the French Antilles, this Creole dish is more reminiscent of a stew than a typical curry.
Sorbet Coco – made with coconut and condensed milk, sorbet coco has hints of nutmeg and cinnamon and tastes more like gelato than sorbet.
Drinks from Guadaloupe
Fresh Fruit Juice
Ti' Punch
Some Great Places To Eat
Chez Sylvie in Bouillante is a tiny, reasonably priced restaurant on the beach. They specialize in Creole seafood.
Au Bon Vivre features outstanding French-Guadaloupean food. An adorable setting for a romantic meal, or for a meal with friends. Well placed in the village, refined cuisine, everything is homemade.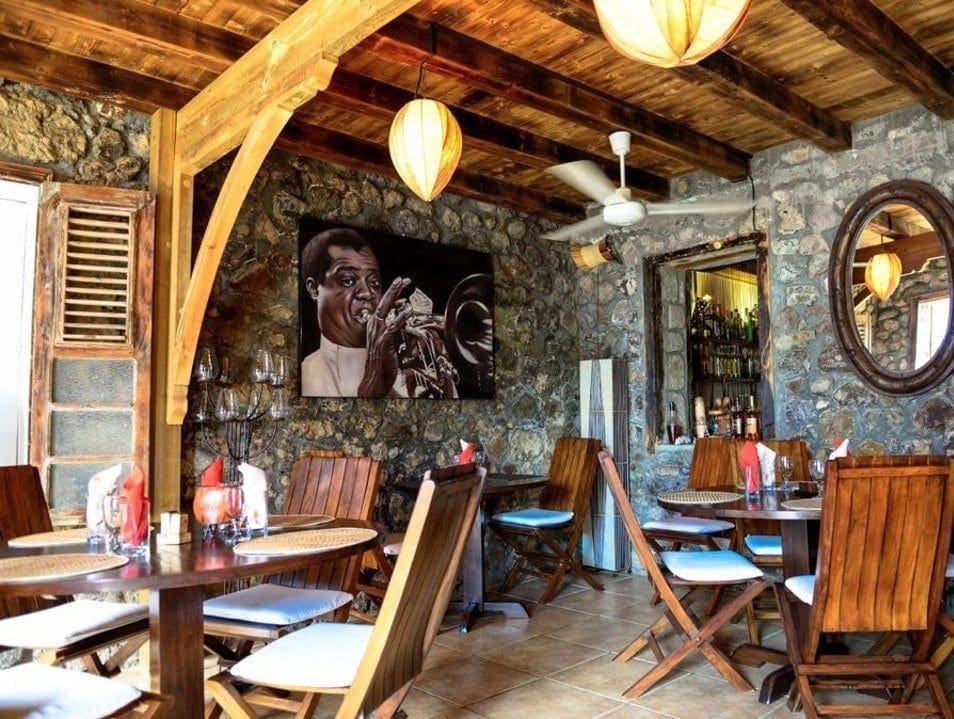 Here is the Sorbet Coco Recipe
2 cans of coconut milk
1 can cream of coconut
1 1/2 cups water
1/2 sweetened flaked coconut, plus more for garnish
Blend coconut milk and cream of coconut in a blender until smooth, about 1 minute. Transfer to a bowl; stir in water and ½ cup flaked coconut. Chill until very cold. Process cold coconut mixture in 2-qt. ice cream maker, according to manufacturer's instructions; transfer to freezer. Freeze until firm. To serve, scoop into dessert bowls and garnish with more flaked coconut if desired.
All the islands in the Caribbean have high crime, but as in any American city, there are safe and unsafe places. When making this list we spoke about countries that we would be willing to visit. Jamaica gets a bad rap and it does have some sketchy areas, but that was not our experience. The people were gracious and lovely. We spent most of our time in the resorts.
Trinidad is considered safer than Jamaica, but Tobago is the island to visit for the natural scenery and luxurious resorts. Everywhere in the world is explorable, it is up to you on your comfort levels, your insurance, and your at-home support if needed.
We hope you feel inspired or at least gained an appetite for Guadaloupe.
Follow Our Blog
By clicking subscribe, you agree to share your email address with the site owner and Mailchimp to receive marketing, updates, and other emails from the site owner. Use the unsubscribe link in those emails to opt-out at any time.