We get a lot of requests for an affordable vacation. Often people start the conversation with what they have heard about a cruise. Recently, I saw a post in a local networking group on the same topic and many people told them that a cruise was the cheapest option. So, I thought I would break it down and explain some of the pricing and value.
Vacation price and the real deal
When you see a price for a cruise advertised, it is for the lowest room category, the cheapest room. Usually an interior cabin, lower on the ship, probably the back of the ship near the engines. Chances are, by the time you see the price, those cabins are already gone. This fare that you see, is just the cost of the cabin. Now you need to add port fees, taxes, and gratuities, for the cost of a cruise and nothing more.
Do you want unlimited drinks? That is extra. Plan on about $120 per person, per day, for the basic drink package. Adult beverage packages have either a per drink price limit or brand exclusions. If you want unlimited, top-shelf alcohol, plan to pay about $140 per day plus a 20% gratuity.
There are soda packages, specialty coffee (i.e. Starbucks) and in many cases, bottled water packages.
But you saw free beverages in the ad? You are charged taxes and gratuities on that. So, your free Package for 7 days, adds upwards of $150 pp in taxes and gratuities to the advertised price.
If you want to check online while you sail, there is a fee, $30-40 per day for 1 device.
If you want any nice snacks, appetizers, pastries, fruit, chocolates, cheeses, or the like, plan on buying a package or shelling out more money.
Some cruise lines take you to a private island. Sounds wonderful, until you realize that your kids may need a paid ticket to use the waterpark.
If you want a busy vacation and do not mind missing out on specialty things that cost extra. If you are ok with an interior 130 sq ft cabin, then a cruise may be for you. You just cannot add the words affordable and value when compared to an all inclusive.
Value with the all-inclusive vacation
All-inclusive is just that, you pay for everything up front, most have no restrictions on dining, and you can eat where you want and drink what you want. Some charge extra for the top shelf, and there are a few that have an upgraded "club" that gives you more access for not much extra. We always go for the upgrade, because of the perks. We do not recommend resorts that limit you to your dining and drink options.
Tipping is the only reason to have some cash on hand, but that is pretty minimal. (About $10-20 a day) Some resorts like Sandals and Beaches, do not allow tipping.
You are not paying extra for packages. You could stream all day at the pool, and it would cost you nothing extra.
What we love about all-inclusive resorts is the relaxation factor, you will find a place to sit on the beach or at the pool. The nightlife is good with shows and live music or DJs playing at the same time. Many resorts have water sports included. Some are limit by motorized and some include them. Some resorts have free scuba diving for certified divers.
Let's do a comparison of a cruise and a resort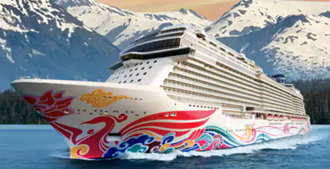 Norwegian Joy
7 day Western Caribbean from Miami
October 28, 2023
Balcony 176 sq ft
Free at sea promotion. Free specialty dining (2 meals up to $180), Free Wi-Fi (Lower package, does not include streaming), Free Beverage Package (plus gratuity) Free Excursion (first guest on a reservation up to $50 value)
$4986.08 without air to Miami. (Add approx. $200 for air)
Secrets St. James Montego Bay – Adults only
11 Bars, 8 sit-down restaurants, a Coffee house, casual poolside grill, most watersports
$4431.74 with air, Atlanta to Montego Bay, Jamaica
Ocean cruise versus all-inclusive resort comparison results
So, as you can see from the numbers above, it is actually cheaper to go to the all-inclusive resort in this case. Granted, this is not always true, but more so than not, it is. Now, you can get on that ship with 3,000 to 4,000 people, or you can relax at a resort with less than 500. So please give us a call so that we can discuss your vacation options with you and get you the best value for your dollar!
Contact Us