Cambridge, England
Cambridge is a city on the River Cam in eastern England, home to the prestigious University of Cambridge, dating to 1209. University colleges include King's, famed for its choir and towering Gothic chapel, as well as Trinity, founded by Henry VIII, and St John's, with its 16th-century Great Gate. University museums have exhibits on archaeology and anthropology, polar exploration, the history of science and zoology. The city is also home to more Nobel Prize winners than any other city, Cambridge is brimming with learning, culture, and discoveries.
Places to Stay
Cambridge is an international city attracting visitors from all over the world and boasts a superb choice of accommodations to meet every need. With a wide range of Bed and Breakfasts, Guest Houses, and Hotels to suit all tastes and budgets, Cambridge is the perfect destination for individuals, families, or groups.
Things to Do in Cambridge
There is something for everyone when it comes to entertainment. A choice of galleries showcases an impressive range of art, from the contemporary to the classic, a buzzing theatre and performance scene presents drama, dance and family shows and you can enjoy all kinds of live music from internationally acclaimed orchestras and ensembles to touring pop stars, pub gigs, the world-famous Folk Festival, ever-popular Beer Festival and the family-friendly Big Weekend.
Market Square
Cambridge Market Square has been a place of trading since the Middle Ages, and it remains a good place to find everything from fresh food to second-hand bicycles. The Sunday market has a more arts-and-crafts feel, but you will still find good deals on local produce. Being fairly central and surrounded by cafes and restaurants, it's a good place to get a refreshing start to your day and get a feel for the city.
View from Great St. Mary's Church
Great St. Mary's Church is beautiful both inside and out. Built in the 15th century, it is worth taking the self-guided tour to see the two organs, the slightly bizarre pulpit on rails, and the impressive stained glass windows. However, it is the tower which is especially famous. Added in 1608, it gives great views over Cambridge from the official center of the city, with college buildings to the west and the city streets to the east. There is a small fee to access to the tower and you will need to climb 123 steps to get to the top.
The Fitzwilliam Musuem
The Fitzwilliam Museum is much like London's British Museum. Not only is it free to enter and look around, but it houses a massive collection of antiquities from around the world inside a beautiful classical building. There are about half a million artworks, manuscripts, statues, coins, and weapons. Basically anything you can think of which has some historical value. The star attraction is the sarcophagus lid of Ramesses III.
Smell the flowers in the Cambridge University Botanic Gardens
Quite far south of the city center, but conveniently close to the train station, the Cambridge University Botanic Garden is a beautiful, peaceful place. A small admission fee will give you access to an impressive forty acres of well-maintained grounds containing over 8,000 different plant species from around the world. There are several seasonal trails, helping you get the best out of your visit at any time of year, but it is also nice just to wander along the winding paths. Check out the historical greenhouses to the north of the Main Lawn for flowers from the tropics, mountains, and deserts.
Eat Chelsea buns at Fitzbillies
The insanely delicious Chelsea buns of Fitzbillies are famous around the world and have been an iconic feature of this cake shop on Trumpington Street since it opened in the 1920s. Still displaying its traditional style, the cafe also serves a good brunch and an extremely popular afternoon tea from 4pm. Being such a famous institution, you can expect the store to be busy most days, but there is a smaller second branch on Bridge Street where you can get tasty sandwiches and, of course, those famous Chelsea buns.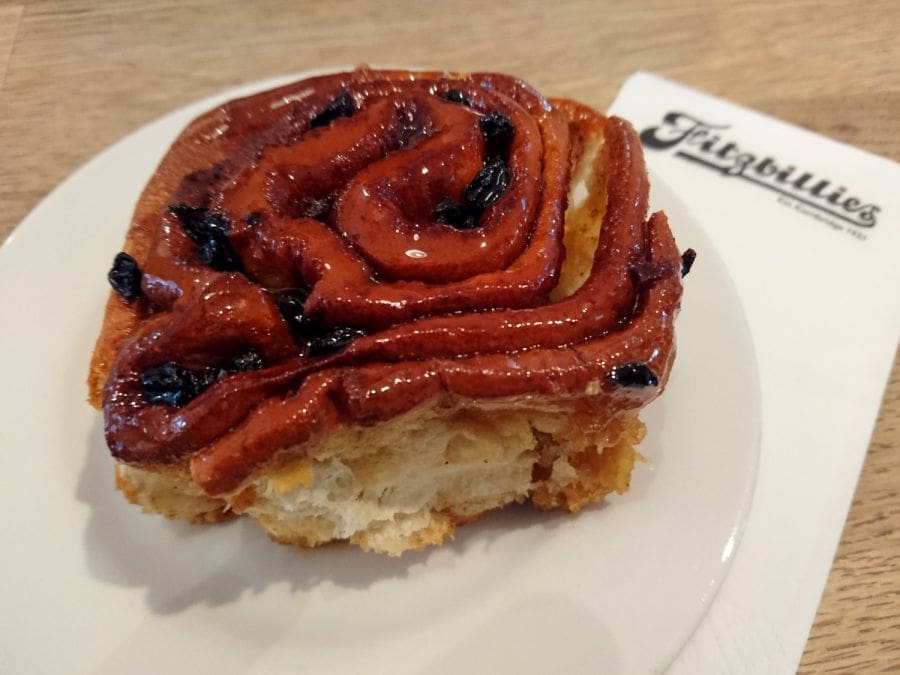 See The Backs from a punt
Many of the colleges of Cambridge University back onto the River Cam, creating a view known as The Backs. Taking a punt, that most iconic of river transports in English university towns, is a great way to enjoy this view, which features many of the beautiful old buildings of King's College, Trinity College, and St John's College. Along the way, you can pass under the Mathematical Bridge, made entirely out of perfectly straight timbers, and the Bridge of Sighs, which has a similar design to the bridge it is named after in Venice, Italy. Punts are available for rent at Quayside by Magdalene Bridge, among other places.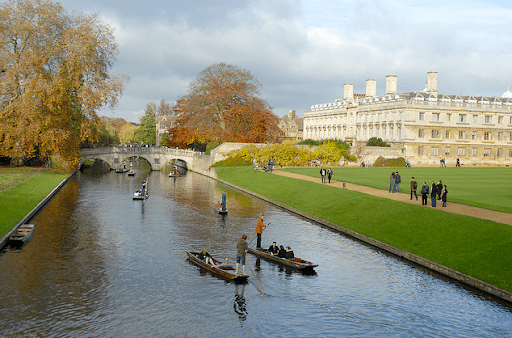 The Round Church
The real name of this building is the Church of the Holy Sepulchre, named after the building of the same name in Jerusalem, which it was modeled after. It is almost always known as The Round Church. There's no prize for guessing why. First built around 1130, it is among the oldest buildings in Cambridge and is one of the most iconic. Inside, the church is quite modestly decorated, but there is a small exhibition showing the impact of Christianity throughout history. Coincidentally, the church is surrounded by several excellent sweet shops.
Shop at the Grand Arcade
Grand Arcade boasts more than 60 shops around a John Lewis department store, with a general trend towards high-street fashion and lifestyle brands. It has a bright and airy feel, for a 3-storey indoor mall, thanks to its glass roof and mostly white decor. Top brands include Calvin Klein, Laura Ashley, Ted Baker and many other mostly British designer labels. There's also a good choice restaurants and coffee shops to choose from.
Hear Evensong at King's College Chapel
King's College Chapel is one of the most famous and popular buildings in Cambridge. If you think the outside is impressive, you will be amazed by the interior, with its many beautiful stained-glass windows, fan-vault ceiling, and historical artworks. As remarkable as the building is, the chapel choir is arguably even more famous. Attend the evensong service Monday – Saturday at 5:30pm or Sundays at 10:30am or 3:30pm to hear the world-renowned singers and their joyous hymns.
Have a drink at The Eagle
Cambridge is far from famous for its nightlife, but one pub deserves its place in history. What appears to be nothing more than a large but typical English pub with a pleasant beer garden is the place where Francis Crick and James Watson announced that they had discovered the structure of DNA in 1953. There is even a special ale available to commemorate the fact: Eagle's DNA. You should also check out the RAF bar in the back, where you will find graffiti left by Second World War aircrews on the walls and ceilings. For even more history, cross the road from The Eagle to St. Bene't's Church, said to be the oldest building in Cambridge.
More Food and Drink
Cambridge boasts a delicious choice of places to eat and drink, whatever your appetite, there is something to suit all tastes. For a romantic dinner for two, why not choose an intimate brasserie dining setting at one of Cambridge's many hotels or choose from an extravagant fine dining experience at some of the region's best Michelin Starred restaurants.
Shopping
Cambridge is a compact city with a wonderful choice of shops. From the hustle and bustle of the city's seven-days-a-week market where you can rub shoulders with the locals in Market Square and the Saturday All Saint's Garden Art and Craft market, to an abundance of boutiques and independent shops as well as high street brands, designer labels and Shopping Centers. Cambridge has it all.
Follow Our Blog
By clicking subscribe, you agree to share your email address with the site owner and Mailchimp to receive marketing, updates, and other emails from the site owner. Use the unsubscribe link in those emails to opt-out at any time.