Overview of Villa
This sunrise-facing Villa in Hawaii is perched directly above the oceanfront green of the 15th hole and offer breathtaking views that span from the historic Ninini Point Lighthouse to the Hau'pu mountains. Laola residences welcome the natural Hawaiian landscape into the interiors with a seamless flow from the exterior to interior. Rich woods and organic stones fuel the warmth of the space. The living space flows into the expansive natural stone lanais, a tile reminiscent of the lava fields of the surrounding islands.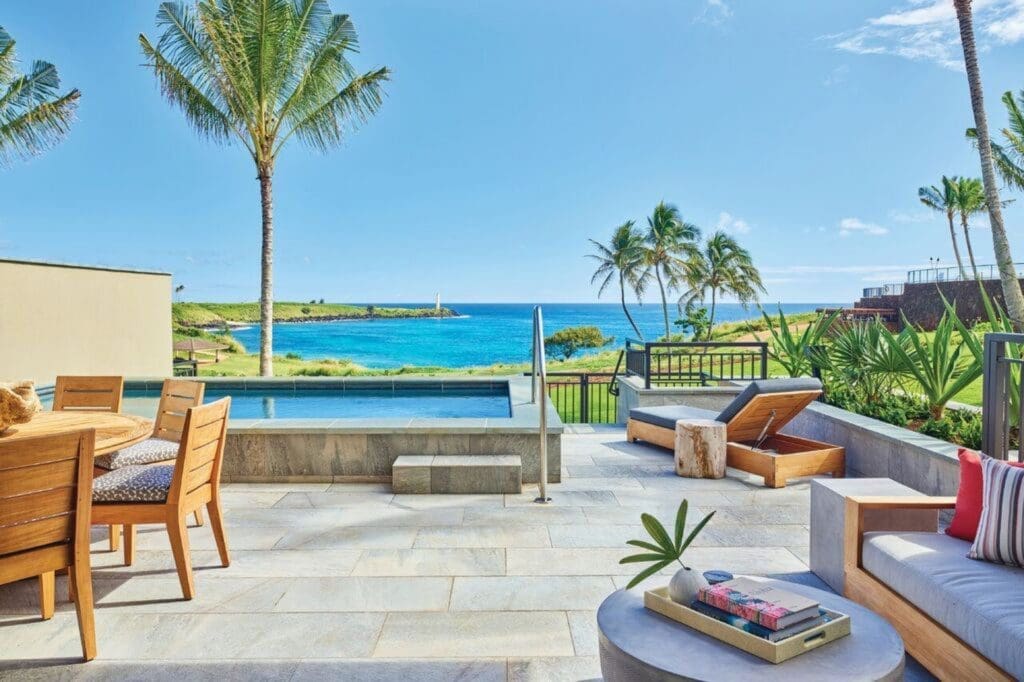 Features such as private plunge pools, folding glass walls and outdoor showers surround you in the island lifestyle. Well-appointed with all of the conveniences of a home and the private location in the resort of Hokuala make this townhome vacation rental a true oasis. Enjoy your own plunge pool, gourmet kitchen, spacious indoor and outdoor living all just a stroll way from the amenities of Timbers Kauai. Keep up with your workout schedule at the fitness center. Pamper yourself at the spa. Enjoy Sunset Session in the late afternoon and look forward to a farm to table dinner at Hualani's Restaurant.
It's all here. World class golf at Ocean Course at Hokuala. Take a surfing, stand up paddle boarding, or snorkeling lesson at Kalapaki Beach. Book a guided hike to our private waterfall, experience the Farm at Hokuala, cruise the property on complimentary bicycles. Rent a car directly on property for a day of island exploration to Princeville, Waimea, Poipu, or Lihue.
At your doorstep awaits 13 miles of nature trails, an infinity pool, a restaurant, spa, on-site organic farm as well as an award-winning Jack Nicklaus signature course boasting the longest stretch of oceanfront golf on all of Hawaii. With luxury amenities and a concierge team dedicated to have you living like a local, experience Kauai with some serious benefits.
Dining
Savor the Garden Isle with your taste buds. The dining options are inspired by the island and locally sourced from our on-site farm whenever possible. From poolside fare to relaxed fine dining, the cuisine is always fresh and always island-inspired.
Spa & Fitness
The Spa at Timbers Kauai weaves local ingredients into traditional practices to create thoughtfully crafted spa treatments. Each spa experience is unique and tailored to guests to inspire "lokahi" – harmony of body and spirit. Adjacent to The Spa, the fitness center features state-of-the-art equipment and guided group classes varying from yoga, Pilates and tai chi at the beautiful outdoor studio.
The Farm at Hokuala
The Farm at Hokuala makes good on the "farm to table" promise: The mission of the farm is to not only provide fresh ingredients to the restaurant, bar and spa, but to also build a community farm with an agriculture-education program for local schools. Tour with Farmer Cody and help harvest ingredients for special chef-prepared, farm-to-table dinners.
Recreation
Kauai is one of the most captivating of the Hawaiian islands, and even short distances bring dramatic contrasts. In the same amount of time it takes to venture from Hokuala to Poipu's sunny beaches, you can just as easily be hiking through a tropical rainforest on the North Shore. With the help of a handpicked collective of local experts, the Adventure Guides will happily serve as your guide to adventure however you define it.
Golf
Winding its way through mango and guava groves to dramatic seaside cliffs, the Jack Nicklaus signature course boasting the longest stretch of oceanfront golf on all of Hawaii was recently named "Hawaii's Best Golf Course." The Ocean Course offers specials, packages and clinics with our PGA pros for multiple ways to experience this impressive home course.
Beach Club & Adventure Center
Enjoy a beach day without any fuss. From towels to chairs and water sports equipment, everything you need will be waiting for you on Kalapaki Beach. From surf and stand up paddleboard (SUP) lessons, to canoe rides, snorkel and kayak rentals, you'll be geared up to experience the true spirit of aloha.
All description text provided by Villas of Distinction. Not responsible for errors or omissions.
Follow Our Blog
By clicking subscribe, you agree to share your email address with the site owner and Mailchimp to receive marketing, updates, and other emails from the site owner. Use the unsubscribe link in those emails to opt-out at any time.